Popular projects of the week
WeatherAtPoint BLE: Personal Weather Station
Keychain sized tiny weather station that provides the most accurate weather measurements on the spot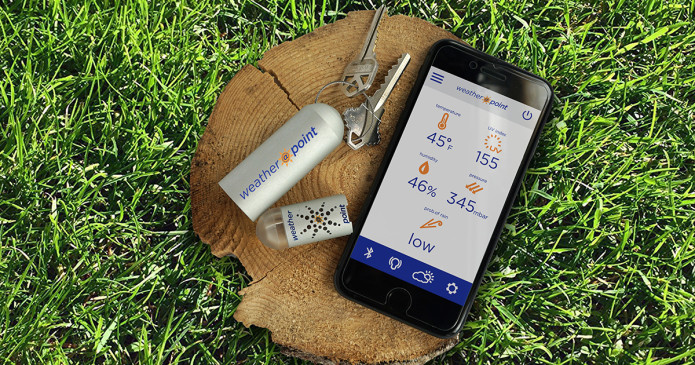 Weather@Point BLE is a personal, keychain sized Bluetooth weather station that instantly measures temperature, humidity, UV, atmospheric pressure and ambient light and displays the values directly on your mobile device. You can store and share real time measurements on the W@P Cloud database and access weather info shared by users from all around the world. It fundamentally changes the way we measure and monitor weather values and at the same time provides access to the Cloud database of weather data, shared by the users from around the globe.

Simply turn on the Weather@Point BLE and the Bluetooth connection on your mobile device, open the Weather@Point App and the real-time measurements will display in the blink of an eye. The creators of Weather@Point is offering a BackerCity Special Perk Set: Weather@Point BLE with Aluminum or Plastic Wear/Splash Proof Case. 57% off!
Mimeng: The Next Gen Smart Heated InSoles
Bluetooth Controlled Insoles | Fits Into Any Shoe | Charges Wirelessly
Mimeng heated insoles recharge wirelessly, are controlled from your smartphone and keep your feet toasty all winter long. They are designed to fit into any shoe, just slide them into your ski boots, running shoes, skates, or work boots and turn them on to feel your feet warm up immediately. They also give you manual control of how warm you want your feet to be or you can allow them to automatically control the heat based on the temperature of your feet.
Using an advanced heating film and powered by a rechargeable lithium battery, Mimeng insoles give you the control to warm your feet as you see fit. Slip them into any shoe, set the temperature from 40 to 50 °C (105.8 - 122 °F) on the MiMeng App, and feel the warmth spread from your feet to your head. Receive a free customized package for Backercity backers.
WORLD'S First Health Smartwatch With Breakthrough Technology
ExMedicus Is The WORLD'S First Health Smartwatch With Breakthrough Technology That Monitors Health, Heart Health and Physical Wellness.
ExMedicus is the easiest way to monitor your Heart Rate, HRV, Blood Pressure, ECG Waveform, Sleep Duration and Quality, Sleep Efficiency, Resting Heart Rate, Activity, Exercise, Steps, Active Calorie Burn, Stress, Fatigue Index, Health Index Score. It will also give you early warnings to the mobile app on your phone about possible stroke, sudden death or stoppage of breathing on the basis of gathered data so that you can take action and prevent early death. Every BackerCity member who pledge £169 will get another ONE ExMedicus Smartwatche for FREE! Please see this Reward: ExMedicus *SUPER EARLY* BIRD SPECIAL X2 ExMedicus Is The WORLD'S First Health Smartwatch With Breakthrough Technology That Monitors Health, Heart Health and Physical Wellness.
3D Wooden City Map to Create a Lasting Memory
Wooden Map of your favourite city to create a lasting memory. Create your own custom map!
The 3D Wooden City Map is created from city data that is transferred into the computer. All details such as roads, rivers, lakes, buildings and even parks are converted into layers to create 3D design. By using 3mm sheets of high-quality plywood, all of which are hand finished. Each layer is laser cut with a one hundredth of a millimeter precision and polished to provide smooth clean surface. Some layers are colored to make the map look great. Each map is unique due to the individual grain of the wood. All maps are assembled by hand with great attention to the all the details. Extremely Early Bird offer (40% OFF) for BackerCity members.