Popular projects of the week
Qdee: Teach kids everything about robot and coding
micro:bit Powered | LEGO® blocks Compatible | IoT Compatible | Step-by-Step Tutorial | For age 8+
Qdee is a Robot Kit designed to teach kids everything about the robot. Crafted with high-quality aluminum, eco-friendly ABS material, and cutting-edge sensors.The Qdee kit and Lego blocks can join forces, giving kids more reason to play and more opportunity to create! Qdee is compatible with a graphical programming environment based on Microsoft MakeCode. With it, kids can just drop-and-play to realize their creative visions. And the web software provides both block and text editors, online or offline, for learners of all levels. HK$78 (USD$10) off on any reward for BackerCity members.(Customize your amount when you pledge, and message us on Kickstarter that you're a member of BackerCity).
The Day Tomorrow Said No
The fable the changed the world... And your future
"The Day Tomorrow Said No" is an illustrated fable about how you will win the epic battle for your future. In just 24 spreads, this book powerfully changes hearts, minds, and revolutionizes the way we work! The journey of the three characters —Today, Tomorrow, and Little One — is our journey, our leap into the future. "The Day Tomorrow Said No" is a data-driven story about the future we face: More change in the next 20 years than the past 2,000 years! And the threats and opportunities of superintelligent automation: Robopocalypse for so many of us! Get a FREE 70-page How to Guide on changing the future of work; Three FREE past ebooks on leading yourself into an amazing future — Disrupt, The Courage Within Us, Future Strong... But most importantly, think not of your reward, but of changing the world! Your support of this project changes the lives of teachers and students in Africa! (See Kickstarter for full details)
4Pong: A Fusion of Beer Pong and a 4-In-A-Row Game
Combine the shooting skill of Beer Pong and the complex strategy of a 4-In-A-Row Game.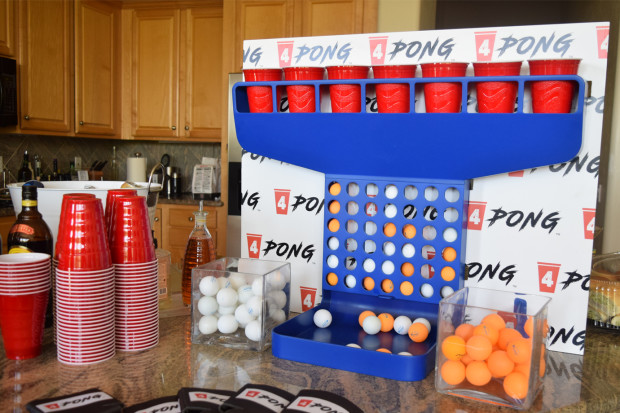 4Pong is designed to be the Next Generation Party Game. The game is more fun and more challenging than traditional Beer Pong. It's perfect for Tailgating, Man Caves, simple House Kick Backs, and more.There are a lot of different ways to play 4Pong. We intentionally designed it for your interpretation. There are no hard rules-- just like Beer Pong, it's house rules. But, we do have some suggestions of our favorite game play modes that we have played so far:
-Head to Head - 1vs1 style game, each player alternates shooting balls
-2vs2 - Each team takes 2 shots, if both balls make a cup, that team gets a bonus shot
-H-O-R-S-E - Call your shot, make your shot, and see if your friends can too
-Melee - Our Favorite - Two big teams rapid firing until 4-In-A-Row is achieved
BackerCity members will get 25% off 4Pong!
Bear Knuckles Gloves, designed for comfort and performance!
Help us create an improved structural firefighting glove that will give firefighters better dexterity and grip strength!
Bear Knuckles Gloves feature our patented Double Wedge™ design, which places extra material over the knuckles of the fingers for easier closure. The result is a glove that conforms to the distinctly curved shape of your hand when at rest and greatly reduces the wadding of leather when closed. This is accomplished while strategically locating the stitching for maximum durability. The response to our work gloves and welding gloves in limited circulation has been outstanding. Our gloves should fit snug to your hand, but within moments you'll realize that the quality leather and the superior Double Wedge™ design outperform your old gloves from the second you put them on -- no more struggling for days while you break in the leather of your grandfather's gloves!BackerCity members receive a 20% discount on any pledge!
MemoNote: Smartest hybrid digital-regular paper notebook
Lockable Notebook | Smart Control | E-Writer Tablet | 7000mAh Power Bank | Reading Light | Highly Sensitive Stylus | Card Holder
MemoNote is a revolutionary digital e-writer. It is exquisitely designed with the five major functions you would need for your day to day activities namely; E-Writer Tablet, Power Bank, private notebook, reading light, and card holder. MemoNote allows you to preserve your thoughts instantly with its innovative dual writing mode. You can jot down ideas on the e-ink tablet on the left and organize them on the paper on the right. In addition, MemoNote's paper notebook helps preserve treasured memories, daily activities and can also serve as a travel journal. BackerCity members get $5 off on any reward. To pledge, select the "Make a pledge without a reward" box, and pledge the reward amount +Shipping fee to your country.