Popular projects of the week
DAVID BRUNO: The Slimmest Luxury Watch Of Its Kind
David Bruno bestows the admirers of luxury timepieces with the finest and the slimmest watches (4.9mm thickness) in the world.
Bruno Watches is here to revolutionize the way you buy a luxury timepiece. We deliver sophisticated, high-end watches at a fraction of the original retail price. Buyers of our limited-edition watches get to lay hands on 4.9 mm ultra-slim luxury timepieces, with class-apart straps that speak of a premium built and expert craft. All Bruno Watches come with changeable Stainless-Steel Straps that embrace solidity and resilience, a metal that has been ruling the watch industry since ages. To compliment the timelessness of Steel, we have three other strap options, Crocodile skin, Python crust and Italian leather. We have four variants in the Stainless-Steel Collection:
∙ Yellow Gold: The perfect gold, crafted to sheer opulence.
∙ Rose Gold: Imperial, thriving Gold, with a touch of rose.
∙ Silver: Subtle shine, and finishes to die for.
∙ Metallic Grey: For the bold, brave you.
BARRACHAIR - The Re-invented Camping Chair
The convertible wheelbarrow & camping chair for all your adventures. Camping, picnics, beach visits, festivals, shopping & more!
Luckily, there's now a way to carry gear to your favourite picnic spot, surf break or campsite that also transforms into a comfortable camp chair! Introducing BARRACHAIR — The "Convertible Dual Purpose Device" was invented to make all your outdoor adventures easier. You can use it while camping, boating, fishing, or even at sporting events and music festivals—the uses are up to your imagination! Gone are the days of carrying a chair. Now you can use your chair to carry everything else! With a 50mm wide wheel that is tough enough for any surface, the BARRACHAIR is compact, sturdy, reliable and it's rated to carry up to 120kg. It converts from a wheelbarrow to a chair and back again with one simple action.
SmileRunner - Best Affordable GPS Sports Wristband
Built-in GPS | 24/7 Heart Rate Monitor | IP68 Waterproof | HD Color Display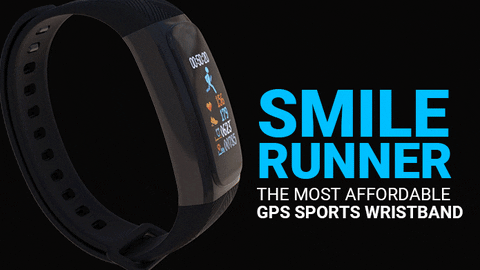 Introducing SmileRunner, the most affordable sports wristband with built-in GPS and a heart rate monitor, making your workouts more scientific and your results more accurate. SmileRunner also features an HD color display, is IP68 waterproof, with multiple sports mode, and sleep monitor. You need to collect comprehensive data to analyze and enhance your performance, but most of the wristbands on the market cannot provide everything you need. Other sports wristbands without built-in GPS need a smartphone app to connect GPS, but this limits the user's freedom and movement. Lastly, they're just flat-out expensive, heavy and uncomfortable.
That's why you need SmileRunner, the only sports wristband that brings built-in GPS, heart rate sensor and step counter altogether!
9.01 BLUETOOTH HI-FI STEREO SPEAKER
EXTRAORDINARY BLUETOOTH STEREO SPEAKER WITH A UNIQUE CHARACTER DESIGN
The High-Fidelity of Monster Link 9.01 is obtained through a frequency range of 80HZ-18KHZ with a high Signal-to-Noise Ratio (SNR) greater than 81dB. The quality of sound produced by Monster Link 9.01 would make any audiophile ecstatic. Comprised of three individual speakers (one 4 inch woofer and two 1.5 inch mid-range tweeters), Monster Link 9.01 is expertly engineered with advanced Bluetooth 4.2 technology and a range of over 30 feet.Enjoy a clean and powerful phone experience with true stereo sound and a uniquely designed wireless Bluetooth speaker.